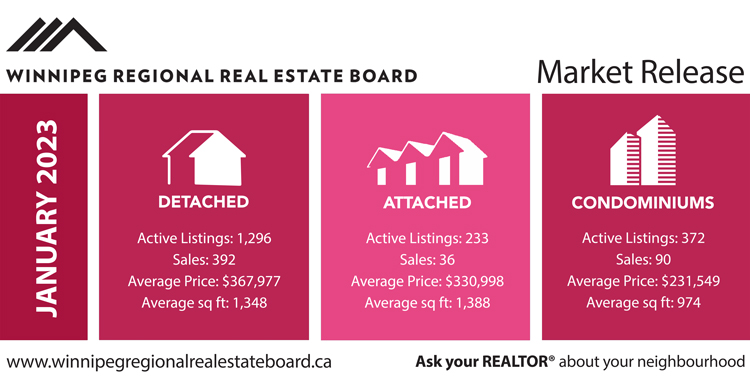 WINNIPEG REGIONAL REAL ESTATE BOARD PRESS RELEASE, FEBRUARY 8, 2023
Winnipeg, February 8, 2023 - As we enter 2023, all MLS® inventory is much higher when compared to the start of 2022, signaling a continued replenishment of housing choices. At the same time, all MLS® sales are below what they've been for most of the pandemic but more in line with pre-pandemic January results.
Winnipeg Regional Real Estate Board's MLS® January 2023 data marks the seventh consecutive month that the percentage increase in active listings has grown over the same month from last year. As an example, over the last 3 months, November's active listings were 53% higher than the previous November and December was 55% higher than the previous December. The active listings for January 2023 are 69% higher than last January.
"Last January was a continuation of a trend seen throughout the pandemic of high demand which translated into high MLS® sales and low inventory,"...