WinnipegREALTORS® Press Release, May 7, 2018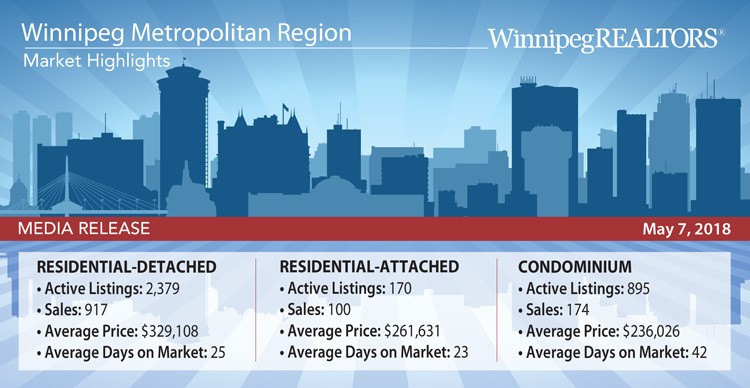 WINNIPEG - April sales began to take off like our Winnipeg Jets. Sales of 1,283 were more spring-like in numbers as only down 1% from last April and up nearly 2% over the 10-year average for this month. New listings of 2,621 in April increased 7% from the same month last year while the existing inventory at month end of 4,550 was up nearly 4% over 2017.
MLS® dollar volume of nearly $390 million just edged out last year's total. Year-to-date dollar volume climbed over $1 billion and is less than 5% off last year's first four month total dollar volume. Year-to-date sales of 3,511 are down 6% from the same period in 2017.
April's average residential-detached sales price was just under $330,000, a modest increase over April 2017. Helping elevate this average sales price was a home in East Fort Garry which sold above list price for $2.6 million and three other million dollar plus home sales in the Waverley West MLS...